MICHIGAN MARTIAL ARTS FEDERATION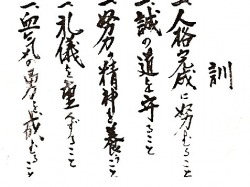 1.
HITOTSU!

JIN KAKU KANSEI NI TSUTOMURU KOTO!
(One! Seek Perfection of Character!)
2.
HITOTSU! MAKOTO NO MICHI O MAMORU KOTO!
(One! Be Faithful!)
3.
HITOTSU! DORYOKU NO SEISHIN O YASHINAU KOTO!
(One! Endeavor!)
4.
HITOTSU! REIGI O OMONZURU KOTO!
(One! Respect Others!)
5.
HITOTSU! KEKKI NO YU O IMASHIMURU KOTO!
(One! Refrain from Violent Behavior!)